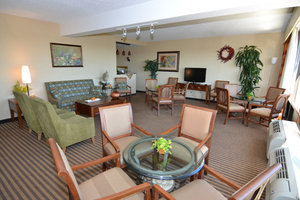 Bi-Level Hospitality Suite
Elevate your group booking with our Hospitality Room add-on! The Bi-Level Hospitality Room boasts a full kitchen, dining area, and two living rooms with comfortable furnishings. Ideal for bridal parties to get ready and traveling groups to hang out, add the Hospitality Room to your group room block at our full-service hotel.
Contact our sales team below to book the Bi-Level Hospitality Room and a block of guest rooms nearby.